AJS & Matchless Owners Club Grand Draw 2018
WIN 1957 AJS 600cc special
2nd prize: New AJS Tempest Roadster 125cc courtesy of AJS Motorcycles Andover plus up to £250 free insurance donated by Bikesure Insurance
3rd prize: Voucher for £100 for AMOC spares
4th prize: 1 year subscription to Classic Bike Magazine
5th prize: 1 year membership of AJSMOC

Winners of the 1st and 2nd place prizes will have to make their own arrangements to collect the bike from our office in Kettering, Northamptonshire, England.


2nd prize: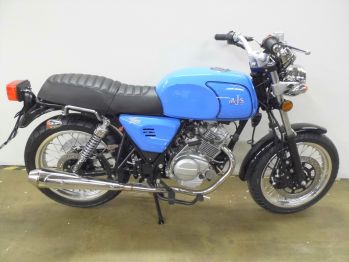 Tickets £1 each. Draw will take place on 07-Oct-2018 at the Copdock Bike Show at Copdock, Suffolk.
Online ticket sales will close on 01-Oct-2018.
Tickets are available online here:



Please note there are only 3317 tickets left for sale online, once these are sold only postal applications can be made.
---
Postal application for tickets can also be made to:
Membership Secretary
AJS & Matchless Owners Club
Unit3, Robinson Way,
Telford Way Industrial Estate,
Kettering, Northants,
NN16 8PT (phone 01536 511532)

until the 01-Oct-2018. Cheques and P.O.(£ sterling only) should be made payable to AJS & MOC, please include a SAE if acknowlegement and tickets are required.