I take it all went well with number then. Roy
Roy
---
Not quite as straightforward as I'd hoped Roy but thanks to the staff at DVLA Northampton who were really helpfull I've got a Historic Vehicle tax disc with the original number (must rememeber to put it on the bike before the next ride!!), still waiting for the log book from DVLA Swansea though. I'll send the card off to you when it comes back.
If I'd have gone through the 'normal' channels then it may not have got back in time as apparently there is quite a backlog at Swansea at the minute.
Thanks very much for your help Roy.
---
Member
Posts: 68
Joined: Sat Jan 01, 2000 12:00 am
Location: FYN DENMARK
I think - not dead sure - 21T is the largest you can fit on a G15 without modifying the primary.
---
Posts: 303
Joined: Wed Oct 29, 2003 12:00 am
Location: SURREY UK
The G15CSR's used a 22 tooth engine sprocket, as standard, so you can fit larger engine sprockets to the G15 series.
---
quote:

---


Look on pages 3 and 4 of the competition picture section for two pictures of my G15CSR. These were that batch of CSR's made and dispatched.


---
Hello John very interesting reading about the G15 I imported a G15 CS from the State's about 4 years back, have not had much time to work on it as yet. I have the model with the Lucas magneto ignition, it came with straight through pipes and would like to fit age related cylencers, any suggestions would be greatly appreciated. I have the small export tank fitted its painted red, would the tank have been chromed originally. I will take some pictures and put them on the forum for you to look at shortly. PS is the book finished yet I wont one Keith
---
Posts: 303
Joined: Wed Oct 29, 2003 12:00 am
Location: SURREY UK
The G15CS models that were fitted with a Lucas K2F had four variations. For 1963, 1964. 1965 and 1966 versions. They would not have had chrome sides on the petrol tank, as only the G15CSR used the chrome sides. The later export G15CSR street scramblers used a 2.2 gallon tank with chrome sides. See the August edtion of Classic Bike page 56, for that particular tank. The years from 1963 to 1966 all came with chromed straight though pipes and no silencers or mufflers. The paint was Candy Apple red. The first batch of G15CS models or the Norton Atlas scrambler from E/F number 107388 to 107587 were painted in a different red, or Cardinal red. The engines were stamped G15CS/107388 and the gearbox had an MA stamped on them. They were badged Norton but stamped G15CS. Dispatched from October to November 1963. As for the book. I tried to write a G15/N15 one, but the P11 took over. It is almost complete but i have not had any one intersted in getting it published.
---
Hi did you get your fold up legs? if not I can give you the measurement. I have a G15 CS I can take all the details from. Keith
---
Steve did you manage to get those dims? If not I could supply you with them, have an original G15 CS Keith
---
Hi Keith, only just noticed your reply. Thanks very much for the offer but I am sorted on the pegs now. Turns out the fold up pegs from the rear of another - possibly G80? are nerly idenical and are reproduced. I even bought a hanger which I chopped up to repair my bent hanger with. Regards, Steve.
---
Here are the pegs with repaired brackets, rare correct brake pedal sourced from Ebay USA and some other bits drying next to the radiator in the spare room after painting
With Ferry tickets booked to the TT races time and money was running very short so with no experience and only a dusty garage I tried to paint one of the most difficult paint finishes myself - Here is the tinware in primer.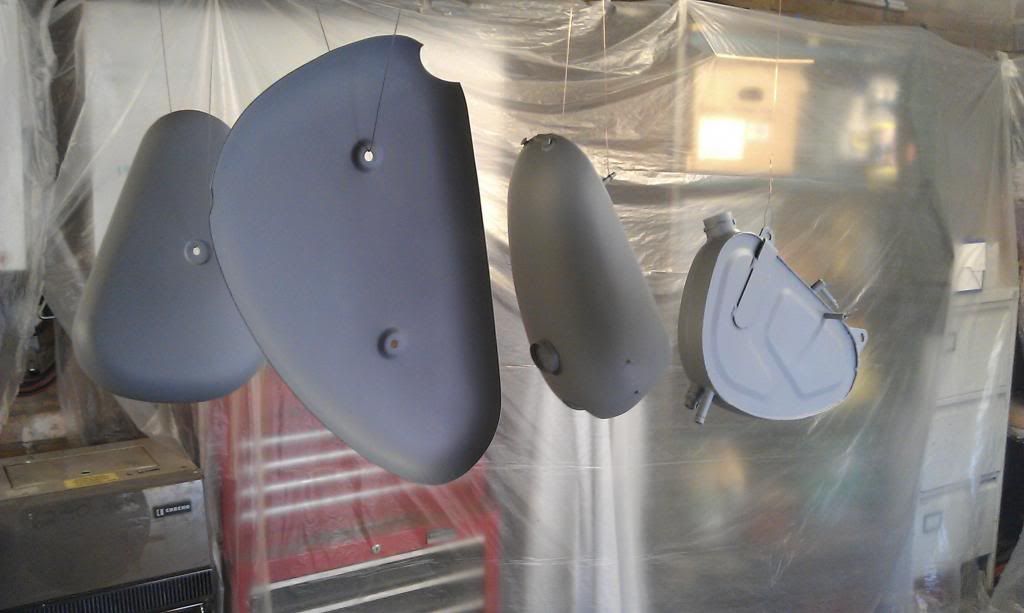 So will it get to the ISLE of MAN ????
The tank with diy pinstripes applied then laquered over.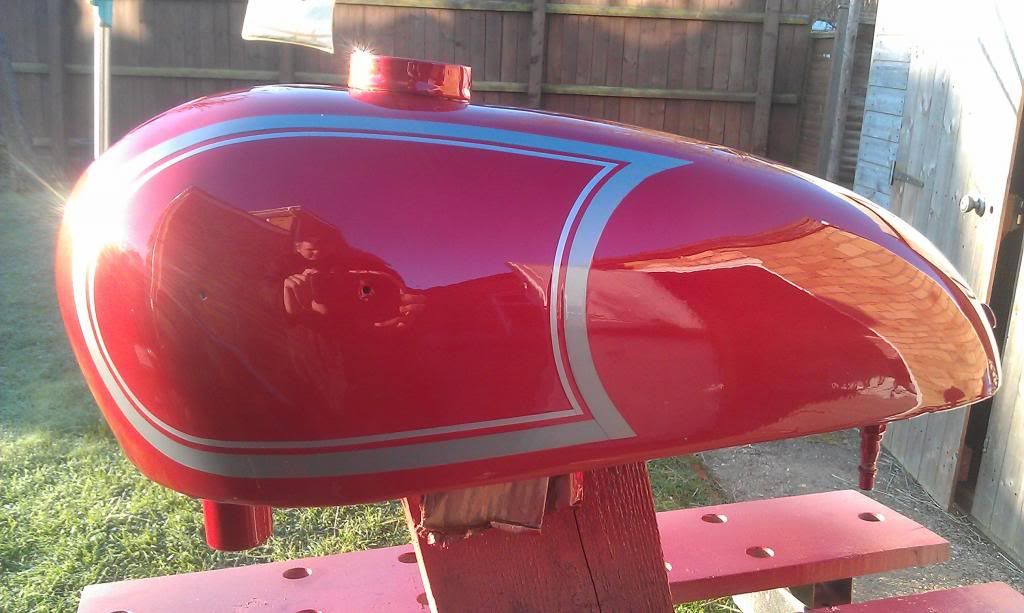 ---
Who is online
Users browsing this forum: No registered users and 2 guests