Hi, I have been lurking on the forums for a while so thought it was about time I said hello and asked for a little assistance.
I have a 1967 G15CS which my father bought in 1982. He used to do a few sidecar rallyís on it but then it sat unused for many years. Dad passed away a couple of years ago and I managed to get the bike running and rode it to his funeral but havenít touched it since.
A plan has been hatched and tickets booked for the Isle of Man TT and the Matchless will be my ride.
It is in fairly original condition and hasnít yet reached 10k so Iím hoping the engine wonít need any work but some of the cosmetics are tired especially the Chrome as you would expect after over 40 years.
My first job is to replace a few missing/incorrect parts. The bike had clip onís and rearsets when Dad bought it so I am missing footpegs. I have replaced the fork shrouds and made a new speedo / tacho bracket but also missing are handlebars and Petrol tank, I think Iíll do those in a separate post !!
So first question is, does anyone have a pair of folding footpegs they could sell me?
Failing that I will make some, could somebody please provide me with a few measurements?
Here is a very basic diagram with the dimentions that would help.
Many Thanks - Steve.
And a piccie of the bike -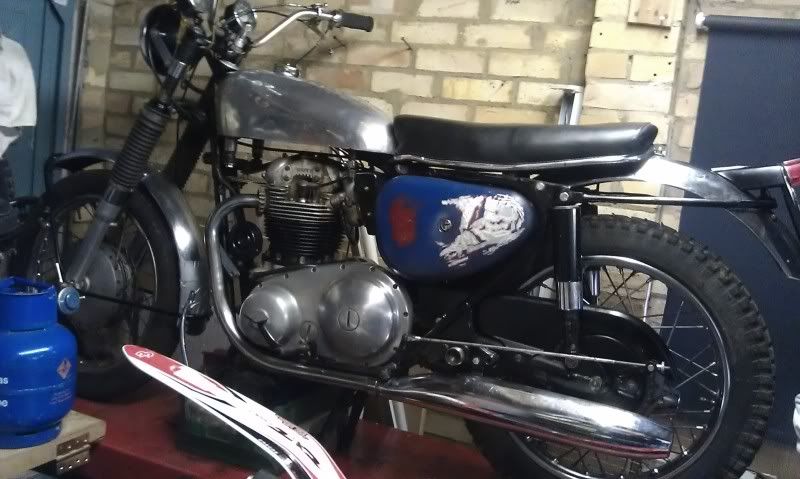 ---
Welcome Steve
I assume you have a Parts List but if not it's here:
http://archives.jampot.dk/Book/Spares_lists/1966-67-68_Master_Parts_List_Hybrids.pdf
I can't help with dims but it's always a good idea and it helps to avoid confusion to quote part nos. I think you're looking for 029859.
Unfortunately they're not available at Jampot Spares since they are not far from you in Kettering, but I guess you already know that
I'm not very well-informed about hybrids but have you tried the Norton parts suppliers? (I think two of them are Norvil and RGM?).
No doubt someone with the knowledge will be along soon.
I poke badgers with spoons.
---
Hello Steve, and welcome to the forum. The G15CS is a great bike and I regret selling mine (a 1964 model)a year or two ago. They are a really exhilarating bike to ride and sound great too-I doubt you'll need any Hi-vis to get noticed!

Some cycle parts can be difficult for these, but many others are common with the Matchless engined bikes of the same time. As Spriddler says, Jampot spares will be a place you should get familiar with, along with Norvil at Chasetown.

They can be a bugger to work on, at least for some jobs, as various bits get in the way of others, so some seemingly simple jobs get a little long winded.

There are a few G15 specialists lurking arounnd the site, so I expect they will be along soon as well, possibly even with the bits you need!
I think I did have one of those folding footrest arms left over. I will try to find it tomorrow, but if you need to make one and aren't too hung up on originality it won't be too difficult to knock something up.
Hope you enjoy it, your dads old bike and such low mileage-I'm very jealous already!
Using yesterdays technology to create tomorrows problems today
---
What's wrong with the tank and bars in the picture? A CS would have that style of tank-rare and expensive, but the club (JSL) have just started selling them- the original bars for a CS would have been the trials or scrambles braced type, not too different to what you have already.
You're not confusing CS and CSR spec by any chance? Also to be sure, does the engine number end in CS? or CSR?
Using yesterdays technology to create tomorrows problems today
---
Here's one I made earlier. When I got the box of bits, there was a lot more missing than with yours, that's why I fitted a roadster type tank initially. later on I managed to get the correct smaller tank like the one in your picture.
If this works, it's my first picture post, thanks to en7jos!
Ahh well, try again tomorrow, when I haven't been to the pub....
Edited by - bjork on 09 Sep 2011 11:40:07 PM
Edited by - bjork on 10 Sep 2011 5:09:30 PM
And there's the picture! Thanks for the PM, en7jos it works a treat!
Edited by - bjork on 10 Sep 2011 5:11:17 PM
Using yesterdays technology to create tomorrows problems today
---
Those tanks aren't to my taste. They just don't look proportional, unless you fitted some upswepts.
---
Thanks for your replies so far, nice to hear from other owners.
The tank that is fitted in the picture is not quite correct as it hasn't got the bulges round the badges. It's also 'borrowed' from another bike. It could end up a permanent loan though as the other bike is a bit of a bitza, a twin tube cs frame with an early 350cc single engine with alloy barrel. Dilema, do I paint the wrong tank candy Apple? It has always been polished but actually has a few dents so it doesn't look great as it is anyway. Or do I buy a steel 3 gallon from kettering, which will also be wrong but give more range ?

Anyway, back to the G15cs, the bars on it are too high and rusty! I was told the correct ones were the same as fitted to the Enfield interceptor no 2 so I ordered some. They looked correct with the cross brace but didn't fit! The clamping section wasn't wide enough. I can't find the correct ones so may buy some lower 'road' style like commando bars, unless the bike is in desert trim with knobbly tyres then I don't think the big braced off road style bars will look great anyway........decisions, decisions !!!
---
Posts: 303
Joined: Wed Oct 29, 2003 12:00 am
Location: SURREY UK
For the G15CS handel bars, and fold up footrests try Walridge Motors, in Canada. They have a web site that you can down load their very comprehensive catalouge from. www.walridge.com The CS type handel bars can also be obtained from T.J.Wassell Ltd, tele 01543 677977 & email bigboystoys@supanet.com. Ask for part number RHB560. The OEM part number was 031651. The P11A had the cross brace higher up the bar so the rider could adjust the steering damper. That part number at Wassell is RHB75, they also provide a very comprehensive catalougue. You will also have to drill two holes in the handlebar for the horn and dip switch. As for the petrol tank, buy the P11 type from JSL as it is the same as the late G15CS, and the butterfly filler cap was also used by BSA, and Triumph, and i have seen them new at autojumbles. As for making the flip up footrest, well have you seen them? The part that flips up is now being made by Walridge, and the other part is a casting that was modified from the earlier G80CS, and G80TCS solid footrest. There are two types of these flip up footrests. The earlier type fitted from engine & frame no 107388, and must have been changed after January or February 1964, or after E/F no 109000. The reason was that this footrest would not allow you to take off the primary chaincase. The later modified one had the footrest casting itself modified. The modification was to machine out the curve of the outer part of the footrest, where the foot peg bolted to the casting. A very small point, but this will drive you nuts if you just managed to buy one of the very early ones. I have only ever seen one set so they are very, very rare as the original owners must have thrown them in the bin, due to the above difficulties mentioned. With this very early footrest casting, the footrest had to placed into the frame, before the engine was fitted. To fit these footrests into the frame, you will also need the following part numbers, footrest rod 018604, two washers 000009, two nuts 000002, engine plate spacer 030237, two footrest spacers 030235. Get a Master Parts List 1966-1967-1968 from Norvil, Russell Motors, or Mick Hemmings. One small point, when you put those two small spacers in, DO NOT FILE THEM DOWN; if you do then the centre stand will stick down. The spacers can also be too small, so you may have to put washers in so the centre stand will operate. The G15CS, the other variants of the G15 used a different footrest spacer arrangement.The petrol tank motifs or badges Matchless are 048499, rubbers, 048500, and screws 031553. Try JSP as they should have those badges as they are common through out the later Matchless range. As for the parts books there are 3, one for 1964, a 1965 supplement, and 1966-1967, A4 size and the one mentioned above. One small point, your could be a 1966 G15CS, but registered as a 1967 model when it was fist sold and registered. Colour was Candy Apple Red, on either a silver or gold base coat, and the stripping was painted by hand in silver. There was also a small reserve tranfer fitted above the reserve fuel tap, 009195. Oh the delights of G15 & N15 ownership.
---
Steve, ref the bars and tyres etc, If you have the correct extra long fork stanchions I think it would look odd with standard lowish bars? On mine, I fitted Avon Distanzia tyres to give it at least the look of a street scrambler. Coupled with the big 'Western' bars I fitted it worked really well. Those modern 'Adventure bike' tyres are obviously meant for 90% road use and are good in wet or dry and well up to the weight of a G15.
From the pic it looks like your might have an 18" front wheel fitted in place of the original 19"? That would have an impact on tyre choice and the handling too.
Not found a footrest yet, but haven't looked very far-I got distracted and did something completely different.
Using yesterdays technology to create tomorrows problems today
---
What great help already, I'm so gratefull, thanks. And well done for getting the picture working bjork! Your bike looks fantastic and when funds allow I hope mine will look as good, for now however I'll have to be content with the light makeover! If it were an antique table the dealer would say it has patina !
John, amazing and priceless knowledge. Those part numbers will be a real help. I'm away at the moment and only browsing on my phone so I'll have a better look when I get home. You're like a walking Hybrid encyclopaedia!
So here's what I know so far.....

The bike was built 1967 to fulfill an order by Berliner. However the order was cancelled so it left the factory October 67 to Slocomes of Neasdon. It probably wasn't sold until 1970 according to the log book. From there I know nothing about it until dad bought it in 1982. He never sent the v5 off so I have to apply to get the plate re-issued.
Bike was used sparingly as a sidecar outfit until early 90's. (cough, different number plate, cough)

There was a note on it saying coil replaced but not tested so I suspect a lack of sparks sidelines it.
Some 20 years on I decide to ride it behind the hearse to his funeral...Only 1 day to work on it (compassionate leave from work well used !) and no spark. HELP
Googled Matchless and amazed to discover the owners club and shop is in my home town, Kettering. New points, plugs, coils, condensors all in stock....still no spark, time running out. Late night and I find a wire shorting to earth. Petrol on...carbs tickled and VROOM.
Suited and booted my bother in law and I proudly follow the coffin the next day, very emotional moment for us both.
---
Who is online
Users browsing this forum: No registered users and 4 guests