awes wrote:yes Clive, thats true!
Now I just need new parts, but can´t find nut and washer here, just the circlip.
Need some google perhaps.
http://russellmotors.co.uk/Classic%20bi ... CHLESS.pdf
These people have the parts, I believe you will have to write a letter to order, I seem to recall they do not respond to e mails. The nut is a special long nut with a groove for the circlip that holds on the lock washer. IN the meantime start looking for an old THIN spanner to fit the sprocket. It needs to be thin to get between the chain case and engine plate to hold the sprocket, to undo or tighten the nut. The sprocket has a slot, also the armature has a slot, into which fits a woodruff key. This stops the sprocket turning on the tapered shaft. IT will be a good idea to get a new woodruff key. You may find yours missing or damaged. Always good to have a spare they can get lost.
---
awes wrote:Thanks for your replys.
I´m gonna try to grind the weld off and see if I can take the parts apart.
Rob, no it´s a 53 Matchless, but probably the same solution to the same problem.


I´m trying to post an image but don´t succed. Can someone explain please.
AJS & Matchless are the same, differing only by badge, transfers and some colours. So G80 is the same as AJS model 18. The dynamo fitting parts were unchanged from 1930's through to 1950's . Circa 1952 new part numbers were introduced. These standard fittings would have had STD prefix then the 3 numbers. STD 611 = 000611. Sometimes you will see these old pt. no's. You may need many parts and advice, so it may be good to join the club. You only have limited free access to this forum of 90 days.,
Here is Nevilles picture of the special nut seen more clearly with the circlip groove. Nevilles picture does not show the half moon shape wood ruff key. I am sure there is also a flat steel washer that goes on before the nut. ( cannot remember, not had my sprocket off for ages )
You do not have the required permissions to view the files attached to this post.
---
Rob. I've only just realised
that as he isn't a subscriber Andreas won't be able to see our photos.
I poke badgers with spoons.
---
I was not aware of that Neville.
---
Does this help?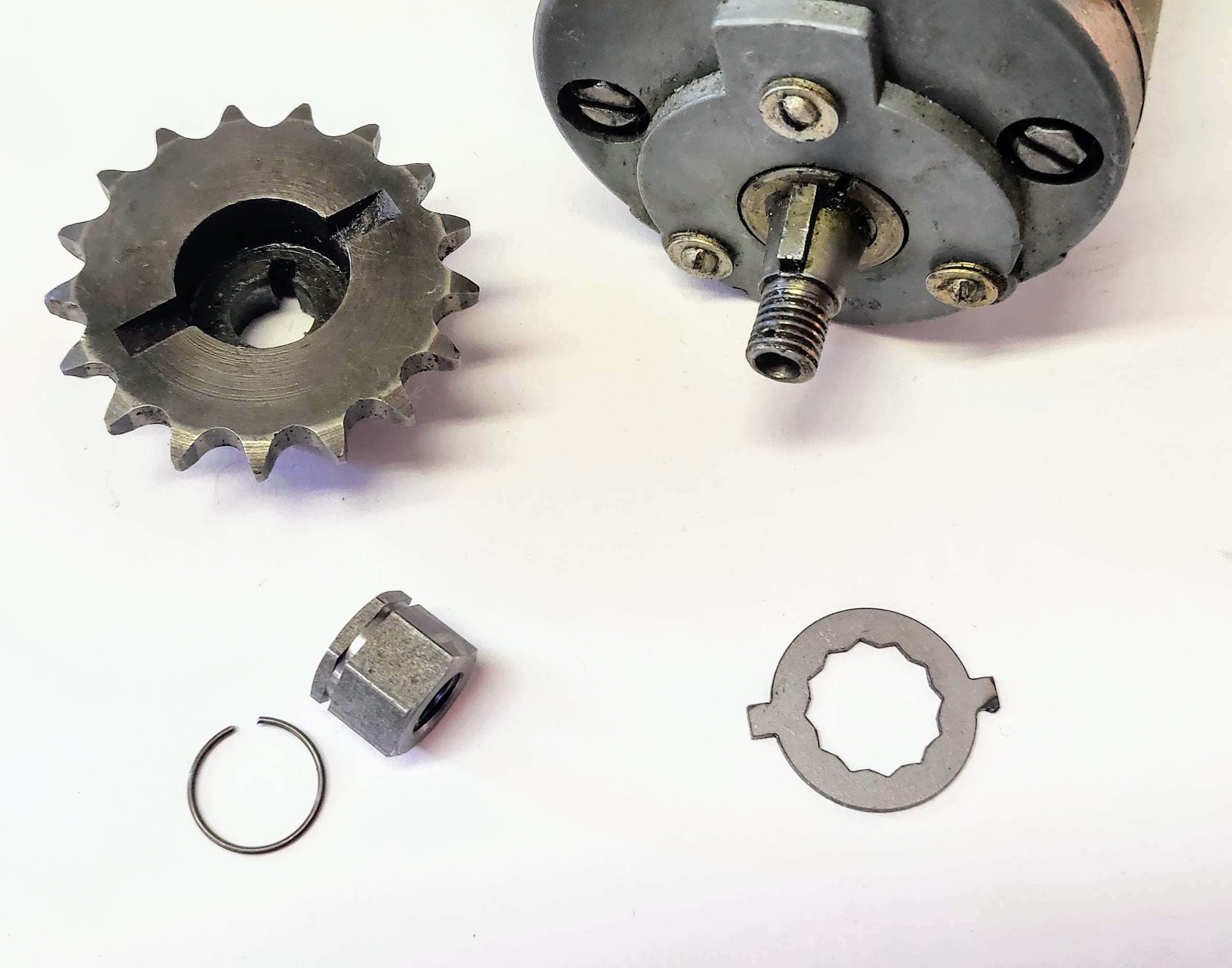 ---
Thanks alot for all helpful info.
---
SPRIDDLER wrote:Rob. I've only just realised

that as he isn't a subscriber Andreas won't be able to see our photos.
I think he cannot load photos but can see photos loaded by others.
clive
if it ain't broke don't fix
---
Who is online
Users browsing this forum: No registered users and 11 guests