Heres a few pictures I managed to upload to photo bucket..... any info at all that may help me would be greatly appreciated, starting with electrics, is it 6 or 12v , and if unable to tell, how do I go about finding out please.
Engine number is 58/G80S 132479
All I have for Frame Number is ....022268 ???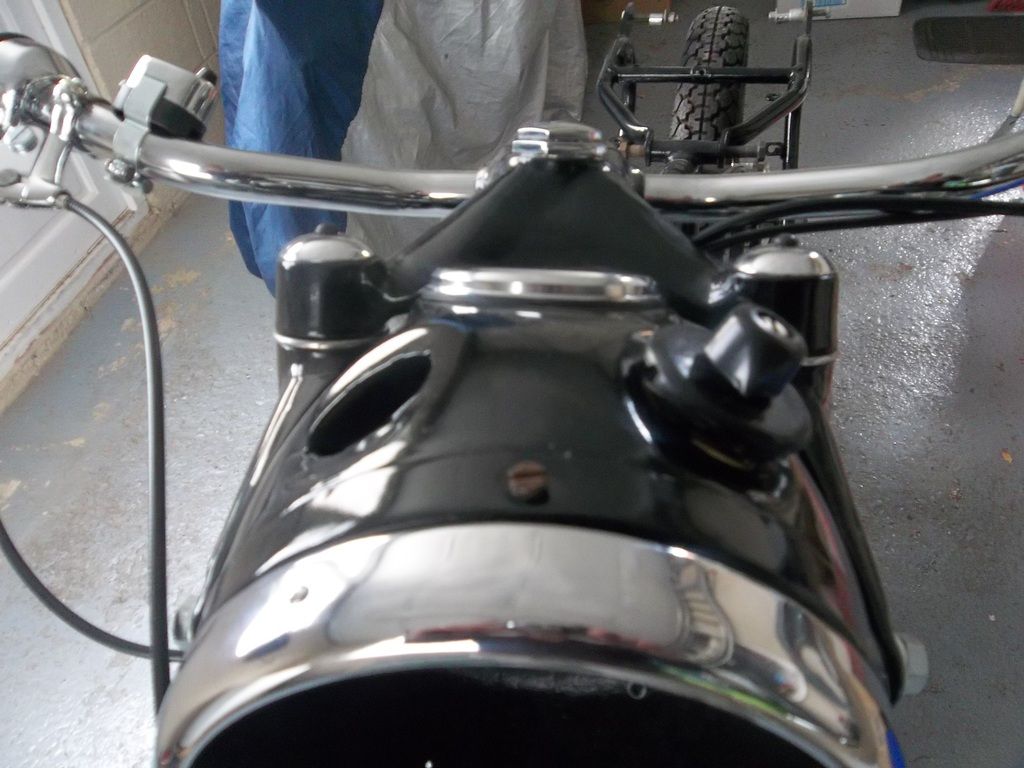 Thanks in advance of any comments or help, I have got all panels just about painted but have some work to do on tank yet.
Headlamp bowl is in place as can be seen, may possibly be needing an ammeter ( havent stumbled across one yet in Dads bits boxes).
My brother is in charge of wet sliding the decal set Dad bought, then I will be 2k laquering them in (lightly of course).
Kindest regards to all for now.
Matt
---
Member
Posts: 9325
Joined: Mon Jan 01, 1990 12:00 am
Location: ESSEX UK
How do I add a photo to my post?To upload your photo, scroll to the bottom of the page and click on the button that says "Post a reply". Then below the box where you type your reply you will see a couple of tabs - the "Options" one is selected, so click on the "Upload attachment" one. Click the "Choose File" button to select the picture file on your computer, then click on the "Add file" button to upload the picture to the forum and attach it to your reply. You can add a maximum of 3 photos per reply, and make sure they are not too big in size so they display nicely in the thread. Remember to click "Submit" at the end to post your new reply and photos (might be worthwhile previewing first so you can double check the photos all look right before confirming).
pasted in from FAQ's
The engine number is 1958 model G80S, you have probably found a number which is not the actual frame number, perhaps a casting or part number. You probably need to see a number stating A5???? or A6????
---
You can view all Matt's photos by clicking on the one photo in his post which will take you to his Photobucket album where you can step through all the photos.
The bike has auto A/R and an alternator so is probably a '58 and 12v.
I like the steel braided oil pipes!
And what's with the 'Uganda' sticker on the rear number plate, Matt?
I poke badgers with spoons.
---
Hi Spriddler, as noted in my previous posts, Im not over familiar with the bike but intend to learn as much as I can about it. It was one my dad wad midway through restoring which I have begun taking over.
The Uganda sticker Im unsure of, perhaps a form of Tax or test notification for that country, but what I do know is that it was over in Uganda and used at some point in its life as a forces/militant bike , there was a crudely hammered out void under the seat/toll box for perhaps a rifle. This is info given to my Dad, he purchased the bike approx 2 years ago from a chap who had a large amount of restorations on the go and let this one go.
Thanks Rob for the heads up on pic posting, I managed to upload the Photobucket account but would like to upload individual pics as the restoration progresses, I shall try to use the method you describe, I have 3 pics of the bike as it was when Imported back from Ugandad, I shall try to get these scanned and up as soon as I can
---
What is auto A/R please ?

Many thanks.
---
Durkin wrote: there was a crudely hammered out void under the seat/toll box for perhaps a rifle.
Crumbs! I'd need a bit of notice to get a rifle out from under my G3's seat (which btw was supplied new in '54 to the Rhodesian Police). Maybe it was a secret hiding place for the rifle? Interesting history p'raps.
Re posting multiple photos I just copy each photo's 'IMG' code from Photobucket and paste them straight into my message. The actual photos then appear in the body of the message when the message is 'Previewed' or after it has been 'Submitted'.
I poke badgers with spoons.
---
Member
Posts: 9325
Joined: Mon Jan 01, 1990 12:00 am
Location: ESSEX UK
Durkin wrote:What is auto A/R please ?

Many thanks.
Your bike has an SR1 mag which has auto advance & retard ( A/R ) ignition unit, that's what the blulge is for on the timing cover.
---
Durkin wrote:What is auto A/R please ?

Many thanks.
Automatic advance/retard unit. To my simple mind's understanding, when set up properly, as the revs increase, the bob weights on the unit fling themselves outwards and some sort of magic advances the ignition. As you slow down the reverse happens. It removes the need for moving the little handlebar lever from starting position to running. It also help prevent breaking your foot when you try to kick off the bike with the lever in the wrong position.
Disclaimer: My experience is with coil ignition and it may be different with magnetos.
---
OK guys, heres how the bike looked before it was pulled to bits for restoration, these pics came with the bike when my Dad bought it. Again , any info or pointers in the right direction as to any known history or recollections from any members here of this bike would be greatly welcomed and appreciated.
Sorry for size of pics...im working on this uploading thing....
You do not have the required permissions to view the files attached to this post.
---
Member
Posts: 2205
Joined: Mon Oct 03, 2011 11:25 am
Location: Aude, France
looking good, hope you still have the rack from the back, they are like hens teeth to find.
Allons-y, amis de Matchless et AJS
---
Who is online
Users browsing this forum: No registered users and 6 guests