Member
Posts: 214
Joined: Wed Oct 12, 2005 9:45 pm
Location: MIDDLESEX UK
The G2CS only ever had 19" rims front and back. I do remember putting a 21" rim on a G2CS in the past and the handling was decidedly peculiar and I could best describe it as "falling into corners".... not something I would recommend, but up to you.
---
Thats good enough for me John................many thanks, will stick to 18's

Colin
only dead fish go with the flow
---
An update for those interested...............
All parts painted black except for tank which is blue, its all back together except for the wheels and tank, I am waiting for the rims and spokes to arrive, which should be this coming week, tank needs gold stripes and a coat of lacquer.
I took Colin's advice and fitted a boyer power box thingy and it works fine, so it runs without a battery, need to fit a switch to the coil feed. make a side stand, air filter and toolbox.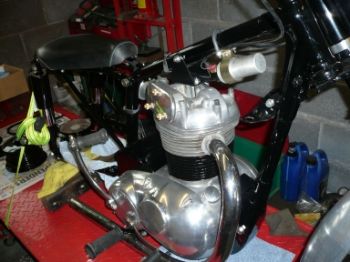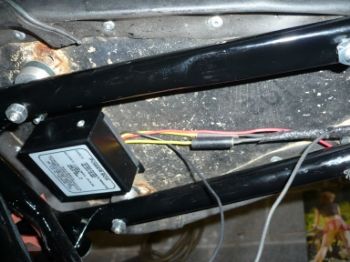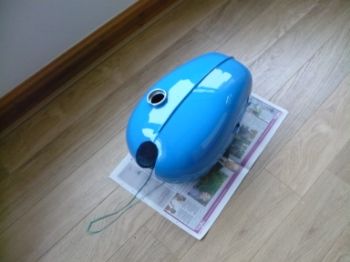 Colin
only dead fish go with the flow
---
Its looks good Colin, does the coil fit under the tank on the standard model or behind the tool box cover?
Slow progress on mine due to work commitments. Got the brake spring & top hat!! Cheers

Steve
---
The coil normally goes behind the side cover but as I am fitting an air filter there I put it under the tank, work should never get in the way, first day back at work today ...............I made myself a competion style air filter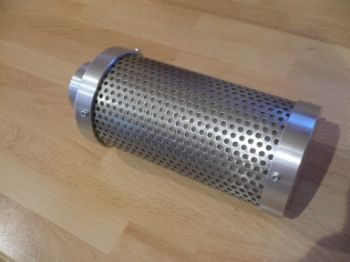 Colin
only dead fish go with the flow
---
Colin your air filter is fantastic i am very impressed.........and your right work shouldn't get in the way!!

Steve
---
Seeiing I have ground to a halt due to "still waiting" for rims and spokes to arrive and the forum is very quiet I shall post a few more photos of where I am, not that I have advanced very far............
Excuse the mess on the floor, just packed a set of forks for a needy member for shipment
Colin
only dead fish go with the flow
---
What mess on the floor? if hooter in the way put it anywhere as long as its a fitted item it will get through MOT. its looking good, very good, may I be picky and say make the speedo bracket the same size at base as at top or even larger, heavy at top, lighter at botton equals metal fatigue fracture, I know to my cost. thats a lovely sheen to the tank. Another question, do you have paperwork for this project, I ask as I have abandoned my project due to lack of it.
If there is life after Death whats the point of dying in the first place.
---
Hi Ted, I thought about metal fatigue when machining it but as the saying goes "I started so I'll finish", if shows any signs of cracking I'll make another, this time off the two fork top bolts, as far as paperwork goes all I have is a club dating certificate, I have re-registered a couple of bikes before with success on a age related plate so I don't think it will a problem but I am trying to register it before the local office closes which is soon I believe.
How it will all work after closure I dread to think, how will inspections be carried out if needed and where? at the DVLA Swansea? be a long way to travel for a five minute inspection.
But my first problem to solve is the rim and spokes..........waiting, waiting,
Colin
PS theres a run on tank by the filler neck
I will sort that when I do the gold lines and lacquer the tank
only dead fish go with the flow
---
I was told by our local MOT tester that horns now had to be capable of continuous operation so effectively had to be electric. Not a big deal as just fitted a cheapo replica horn and tucked 4x1.5 batteries under the tank.
Peter W
---
Who is online
Users browsing this forum: No registered users and 3 guests