Back to Events page
The 2008 Jampot Rally at Launceston, Cornwall.
Being that in order to rent one of the cottages close to the rally site we had to take it for a fortnight in order to cover the middle (rally period) weekend, Pam and I decided to make a holiday of it as did Alan and Jackie Jennings as well as Alan and Margaret Earl from the Kent section, who had two of the other cottages. So it was that we all arrived in glorious weather the weekend before the rally. However it was not to last and after the first couple of days it degenerated to the extent that on the Thursday when it was intended to do most of the setting up, it was raining steadily for the whole day. It was fortunate indeed that all of the others (except Pam and I – who didn't realize that we would be also doing some work on the Wednesday) had managed to get our control tent up on the Wednesday afternoon during one of the drier spells, as it made things a lot easier when we had to get the final things sorted out on the Thursday morning. So, despite the terrible weather on Thursday we at least were ready for the arrivals to shelter in the dry and enjoy a hot coffee or tea while signing in. We could also feel sorry for the poor souls who were struggling to put up the main and catering marquees in teaming rain and getting soaked to the skin in the process, providing hot drinks for them and even for the caterers themselves at some periods.
It was around midday when the first arrival turned up, our own Vic Sayers, who had ridden down that morning and had fortunately managed to reach Devon before the rains engulfed him. Even so, his waterproofs had failed the rain test somewhere between Exeter and Launceston and he had suffered that dreaded feeling which we all know so well as that cold spreading dampness informs us that all hope is lost of a comfortable end to the journey. Although the terrible weather led us to think that not very many would bother to turn up on the Thursday it actually seemed that more decided to come that day as a trickle became a steady stream of arrivals. The regalia was already selling well, so well in fact that by the time we "closed up shop" on the Thursday night we had already sold out of medium size polo shirts – and the rally hadn't even officially started by then.
<![if !vml]>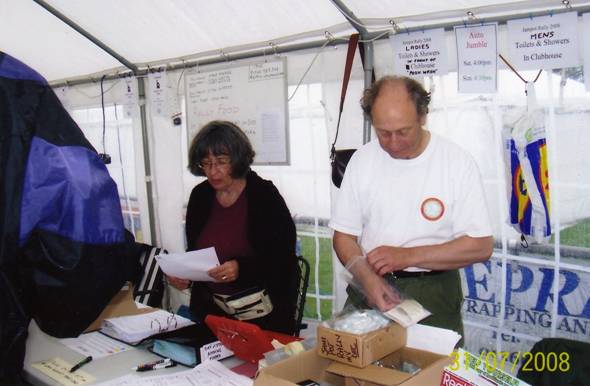 <![endif]>
Pam and Colin Atkinson busy welcoming and booking in the rally arrivals in the Launceston control tent
Friday started with yet more rain, but soon settled in to showers punctuated by dry spells with even some occasional sunshine as the main bulk of the rally visitors arrived. In the control tent we were kept very busy booking people in while Margaret Earl did an excellent job of selling the regalia and husband Alan kept the much in demand tea urn topped up for immediate use by all and sundry. Somewhat to their surprise Graham Eaton and Dave Nichols found that they were taking out the Friday afternoon run unassisted by local knowledge. Graham set off with the marshals while Dave led the actual run some minutes later. 76 riders went out for the run and fortunately the weather remained dry throughout. In the control tent we knew that Graham had arrived back by the smell of burnt oil which drifted through the entrance as his G15 was smoking badly on its left cylinder. Meanwhile the regalia had still been selling remarkably well and we had run out of several sizes in both sweatshirts and polo shirts by now. I was also starting to get a bit edgy about carrying some £7000 pounds around in my pocket, which seemed only a little more secure than having it bulging out of a biscuit tin in the crowded control tent. So about 3pm Chris Read ran me to the bank where, clutching said biscuit tin and dressed in my best army surplus clothing, I handed it over to the counter for paying into the Club account. Back at the site and it was a wait for the caterers to get the evening meals underway then, suitably refreshed, it was a case of continuing to deal with the later arrivals until most people had started to drift into the bar, or were scattered around chatting before closing up the control tent for the night, with our section's bikes safely ensconced inside away from the Cornish weather.
Somewhat surprisingly Saturday started out quite dry and after breakfast in the marquee the Saturday run assembled for the "off". Graham decided not to take his ailing G15 out this time and intended to investigate it later. Chris Read went out in his Range Rover prior to the run leaving in order to ensure that the roads were clear and this time I counted out 177 riders taking part and they left in sunshine, for what was to remain another dry run. Shortly after the run leaving, in the control tent, I had a visit from the very concerned organizer of the "paintball" ground on the opposite side of the road from where we were. It seemed that on the Sunday they were holding a horse dressage event and he was most concerned that our Sunday run would not leave the same way (via the very narrow lane past his ground) that they had on the Friday and Saturday. It seems that neither he, nor the Rugby club, knew that the other was holding a big event on the same weekend. So it was a case of altering the start procedure for the Sunday run. While the run was out Graham and I had a look at his G15's Norton motor to see if we could cure a major oil leak. We tried a few things but, disappointingly, were not able to even improve matters, let alone effect a cure. During the day people had been asking about the autojumble and, looking at the programme of events we had dutifully said 4 pm as stated. However, once the run had returned they all descended like a plague of locusts on the stands, well before 4pm and by the announced start time most of it had probably gone – quite a bit of it to our own section's Alan Jennings and Dudley Woods it seemed.
<![if !vml]>
<![endif]>
Pat Gill gets his restored Matchless Silver Arrow ready for one of the runs
That evening there was entertainment in the marquee and it seemed that "Elvis" had been resurrected once more, for the benefit of the AJS&MOC, although the smoke that accompanied his arrival did nothing to help the environment. Pam's back was playing her up badly by this time so we didn't stay till the end, but it seems we missed the best part. Throughout the evening Alan Jennings and Dudley Woods had been steadily working their way through a bottle of whisky (celebrating their autojumble purchases perhaps!) with apparently some interesting results. As I wasn't there there till the end though you will have to ask someone else about it, although not Alan or Dudley as I doubt that they can remember anything.
On the Sunday morning Graham was still not sure about using his bike to lead out the marshals again because he didn't think that he could trust it so Roy took it out for a run in order to give his opinion on it. While he was away I was chatting to Graham outside the control tent when I heard this twin cylinder bike being given some "stick" along the road. "Sounds like your bike is on its way back", I said to Graham, as the revs rose ever higher before Roy eventually appeared back with us and pronounced it as seeming OK. I think that Graham decided that if the motor had stayed together after that then it should finish the run, so he took the marshals out as planned and indeed it did finish the run – and collected a commended rosette at the mid point judging as well.
For the start of Sunday's run we had a surprise visit from a motorcycle policeman, which was surprising because Chris Read's initial approach to the police authorities met with complete indifference. However, perhaps because someone in a senior position had suddenly realized that there was two large events taking place on opposite sides of a relatively small road and had second thoughts in case any problems might reflect badly on him, this chap was, very fortunately, here and held up traffic on an awkward bend for us while the entire run got away (176 riders this time, with another 20 or so joining up at the half way point in Bude). While waiting for the run to leave I watched various horseboxes and trailers making their way down to the dressage event. If the run had left by the same way as the previous days then there would no doubt have been absolute chaos. With this patrolman's help everything went well and the run was not fragmented. He then took a shorter route than the run, to the half way stop at Bude, to see everyone in – good for him, his help was welcomed. Although this run also started in sunshine it was only to last for the first half. The rain started as they left on the return trip and just got heavier all the time, such that they all arrived back in a fairly soggy condition. However, everyone still seemed to be in good spirits and had enjoyed themselves regardless. One thing we did notice in the control tent this year was the continuous demand for the charging of mobile phones. Having rigged up an extension board at one stage we had three phones and a bike battery on charge, so we provided a worthwhile service there and something which was obviously needed as there is not much opportunity of charging a phone battery when you are sleeping in a tent and have arrived on a bike with a 6 volt electrical system.
<![if !vml]>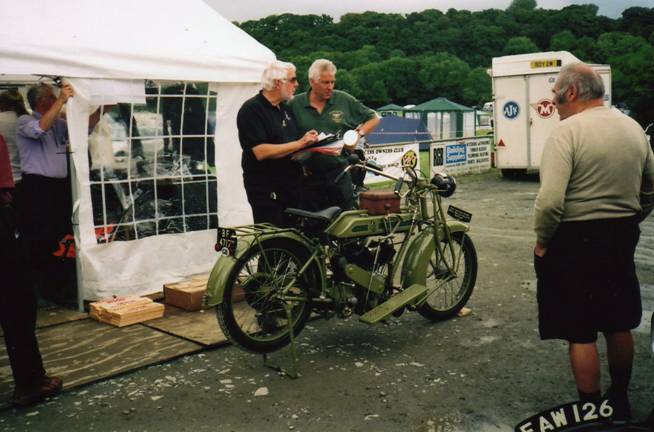 <![endif]>
"Jampot" editor Chris Read and new Club President Roy Bellett discuss another of Pat Gill's superb Matchless restorations
I have to admit to giving the AGM a miss and so didn't see our section leader Roy get voted in as the new President of the AJS & MOC, but we all knew about it at the evening gathering when Chris Read gave a very good "winding up" speech and announced Roy as the Club's new President. That night's entertainer was a re-incarnated Roy Orbison, who I personally preferred to Elvis. I hope that he wasn't too distracted by the mass of paper aeroplanes flying between the various tables throughout the latter part of the evening – boys will be boys I guess and I have to own up to being one of them.
And so a good rally came to an end with everyone leaving on the Monday morning and the weather staying dry enough for us to get everything packed away by soon after midday. While packing up, Pam was chatting to one of the caterer's, who said that they were very surprised at the age range of those attending the rally and to find that they were still partying well after midnight, also at just how far some of them had travelled to be there. They had done one bike event previously and that was a Hells Angel memorial event which more conformed to what is usually portrayed as the stereotypical biker event and nothing at all like our lot, who obviously knew how to really enjoy ourselves. As Pam said to them, we were probably more typical of a bike event than any stereotype and people usually do have a good time, with families as well, at such events. Despite misgivings about the weather and organizing something at such a distance from our section area the rally was a success and I feel that the vast majority of those attending enjoyed themselves.
Colin Atkinson