Back to East London & Essex Home Page
Section 25 Years badge<![if !vml]>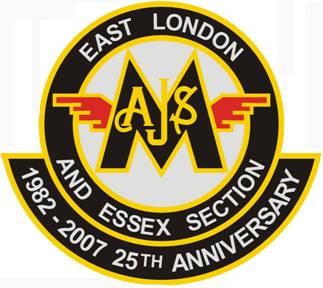 <![endif]>
Members of East London & Essex section celebrated the twenty fifth anniversary of the section in 2007, the section having been started back in 1982 by Kevin O'Brian and a handful of others including current members Richard Smith & John Puttock. Richard re-joined us not long before our anniversary but John has been attending section meetings for the whole period; also being our treasurer for many years. The early meetings were at the White Bear, Stanford Rivers (sadly now a private house), and moved to various locations at Ongar, Fyfield, back to Stanford Rivers and finally Navestockside before settling into our current venue in the historic NAAFI building at North Weald airfield in June 2006. We regularly have 35 plus members at our meetings with as many as 20 on occasions taking part on club runs and shows. During the years the section has co-hosted the Jampot Rally in 1988 at Saffron Walden and hosted the rally again in 2004 at Brentwood. Also, by the time of our anniversary the section had also agreed to run the following year's Jampot Rally at Launceston in Cornwall.
It was decided to mark this special event with a section barbeque to be held at our meeting place, the Squadron, North Weald. The date was set for a normal section night of 26th July when we expected to be basking in late evening sunshine. The members were encouraged to turn up on their bikes so that we could obtain some good photographs. However come the day in question it rained heavily; only clearing in the evening. The staff at the Squadron had already decided to cook the food in the kitchen and most members arrived by car with their wives and partners so in the end we had an indoor barbeque. In the end only two members plus two guests from Kent section arrived by bike The only bikes. Still the food was good and plentiful with nearly sixty people enjoying a relaxed evening 60 Guests. 25th Anniversary Meeting
To honour John Puttock's loyal attendance over the entire 25 years the chairman, Dennis Fox, presented him with a commemorative tankard during the evening.
Here's to the next 25 years and our "Golden" anniversary.
Alan Jennings